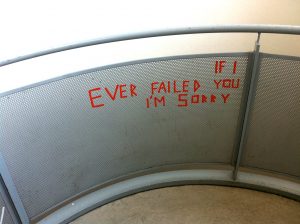 When Veronica Dyas asked me to help her put together an installation/performance this May called Here & Now that would be the cumulative event in a project she had been working on for the last few years, I wondered what I could bring to it.
She didn't need a designer – she knew what she wanted in the space. She didn't need a producer – she had one on board, and knew that I don't consider myself a show producer anyway. She didn't need a director or an outside eye – it wasn't really that kind of thing. I wasn't sure what benefit I could be to her, but I have a lot of respect for Veronica, so said I'd help in what way I could. We agreed to meet once a week.
Veronica had what seemed like an enormous satellite team of excellent people contributing work in response to her and her thoughts. Among the people I didn't meet, who she'd met originally on her Camino walk and were now collaborating remotely, she was working with: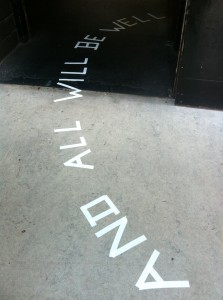 – Eoin Winning designing lights and making everything work
– Dylan Tighe and Little John Nee contributing beautiful music
– The Company members Nyree Yergainharsian as producer, and Jose Miguel Jimenez making a video piece for the performance
– Louis Haugh creating a photographic installation
– Actor Conor Madden filming a documentary
– Theatre maker Sorcha Kenny responding to a previous part of Here & Now where Veronica gave away (nearly) everything she owned
– Amy Conroy of HotForTheatre working as script dramaturg; choreographer Ella Clarke advising on movement
– Aoife O'Sullivan as the dream stage manager
We talked, and I started to see what I could do for her. What I didn't expect was that working with Veronica would do just as much, if not more, for me. Her practice of encouraging everyone to be in their dream – doing the thing they most want to do – created a feeling of connection, togetherness and calm over the whole event, for participants and audience alike. Everyone was welcome into the space she created. Everyone was at home.
Having the opportunity to be involved in the collaborative practice that Veronica led reminded me of why I got involved in working in the arts in the first place. Her creative openness and dogged optimism combined with a endless reservoir of integrity has encouraged me to keep interrogating my own ideas and plans to make sure they ring true. Thanks Veronica for reminding me of the feeling of long-distance walking, and how it's worth the effort to bring that frame of mind into everyday life.