Wandering Methods – Explorations by Slow Craft was developed by Bealtaine Festival, Dublin and Craftspace,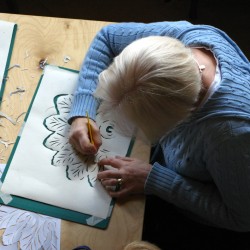 Birmingham in association with the Office of Public Works, who manage heritage sites throughout Ireland.
Each year, two professional artists worked in a significant heritage building in Dublin with a small group of older people who live near the building. As a group the participants spent time looking at the building and its contents, and learning about its history – from this they worked with the artists to learn new craft skills and create material that drew from their observations of and connections with the building.
In 2012 the project took place in Rathfarnham Castle, and the lead artists were Linda Florence and Maeve Clancy, one who works with pattern and print, and the other who works with paper cutting and drawing. In 2014 we worked in Dublin Castle, and the lead artists were textile artist Liz Nilsson and craft designer Jenny Walsh.
In 2014 the project had the added facet of being part of a bigger research project by staff at Falmouth University called Co-Creating CARE. As part of it, we had a connection with a Digital Fab Lab in the University called MakerNow, and the participants of the project learned about the craft uses of digital fabrication.
Both years culminated in an exhibition that took place in the heritage building over the summer months.
Key activities for this role included:
– recruitment of all participants and some of the artists
– budget management
– liaison with Bealtaine, Craftspace, the OPW and staff of Rathfarnham Castle and Dublin Castle
– scheduling and administration
– planning launch events
– coordinating visits to external venues for the group (Castletown House, National Print Museum, and a visit to the MakerNow Lab in Falmouth University) and work days in Black Church Print Studio and Print Block.
– photographing all workshop days
– hiring and managing a videographer and graphic designer
– planning, designing, installing and de-installing the exhibitions
I commissioned video maker Kilian Waters of Shoot To Kill to document the projects:
Wandering Methods from Shoot To Kill on Vimeo.

Wandering Methods 2014 documentary from Shoot To Kill on Vimeo.